Extension of tariff quotas for certain fishery products
Published by AGRINFO on
EU opens new zero-duty tariff quotas for fishery products for processing (including herring and redfish)
Proposal for a Council Regulation amending Council Regulation (EU) 2020/1706 opening and providing for the management of autonomous Union tariff quotas for certain fishery products for the period 2021–2023
Update
The Commission has published a proposal opening new zero-duty tariff quotas for fishery products for processing, for the period 1 November 2022 to 31 December 2023, in relation to herring, Chilean jack mackerel, rays and skates, sea bream and redfish.
Background
In recent decades, the EU has become increasingly dependent on imports of fish and fish products to meet demand. The EU's fisheries and aquaculture production currently meets only 43% of its needs. The Union has concluded several agreements with third countries or territories to permit the suspension or partial waiver of normal duties applicable to certain fishery products in order to ensure an adequate supply to its processing industry. These autonomous trade measures for fishery and aquaculture products enable the EU fish processing industry to import non-EU countries' raw materials for further processing at reduced rates or duty-free, and allow Member States to draw from the tariff quota amount the quantities corresponding to their actual import needs.
Tariff quota entitlement is based on the supply of an appropriate volume, until the tariff quotas have been used up, and requires a minimum capacity of treatment or operation. Imports are subject to end-use customs supervision in accordance with Article 254 of Regulation (EU) 952/2013.
Impacted Products
certain fish and fishery products destined for processing in the EU
What is changing?
The EU is suspending or reducing import duties on the fishery products listed in Table 1 for the period 2021–2023. These new tariff quotas are only for products that have undergone certain processing (e.g. dicing, filetting, production of flaps, cutting of frozen blocks). The rules are set out in Article 4 of Regulation 2020/1706.
Why?
Autonomous tariff quotas (unlike quotas agreed through tariff negotiations) are unilaterally established by the EU in order to respond to the needs of the EU fish processing industry. A shortfall in supplies of certain fishery products is anticipated in part as a result of the expiry in April 2021 of bilateral protocols establishing fish quotas with Norway and Iceland. New quotas had already been established in July 2021 to respond to the shortfall, but these new quotas expire in October 2022 and negotiations of new bilateral protocols are still ongoing.
Timeline
The proposal is expected to be adopted by Council in October.
The Regulation will apply from 1 November 2022.
The new quotas are valid until 31 December 2023.
What are the major implications for exporting countries?
The reduction or suspension of import duties for certain fishery products that the EU currently imports from third countries provides opportunities for AGRINFO partners to export these species.
Sources
Tables & Figures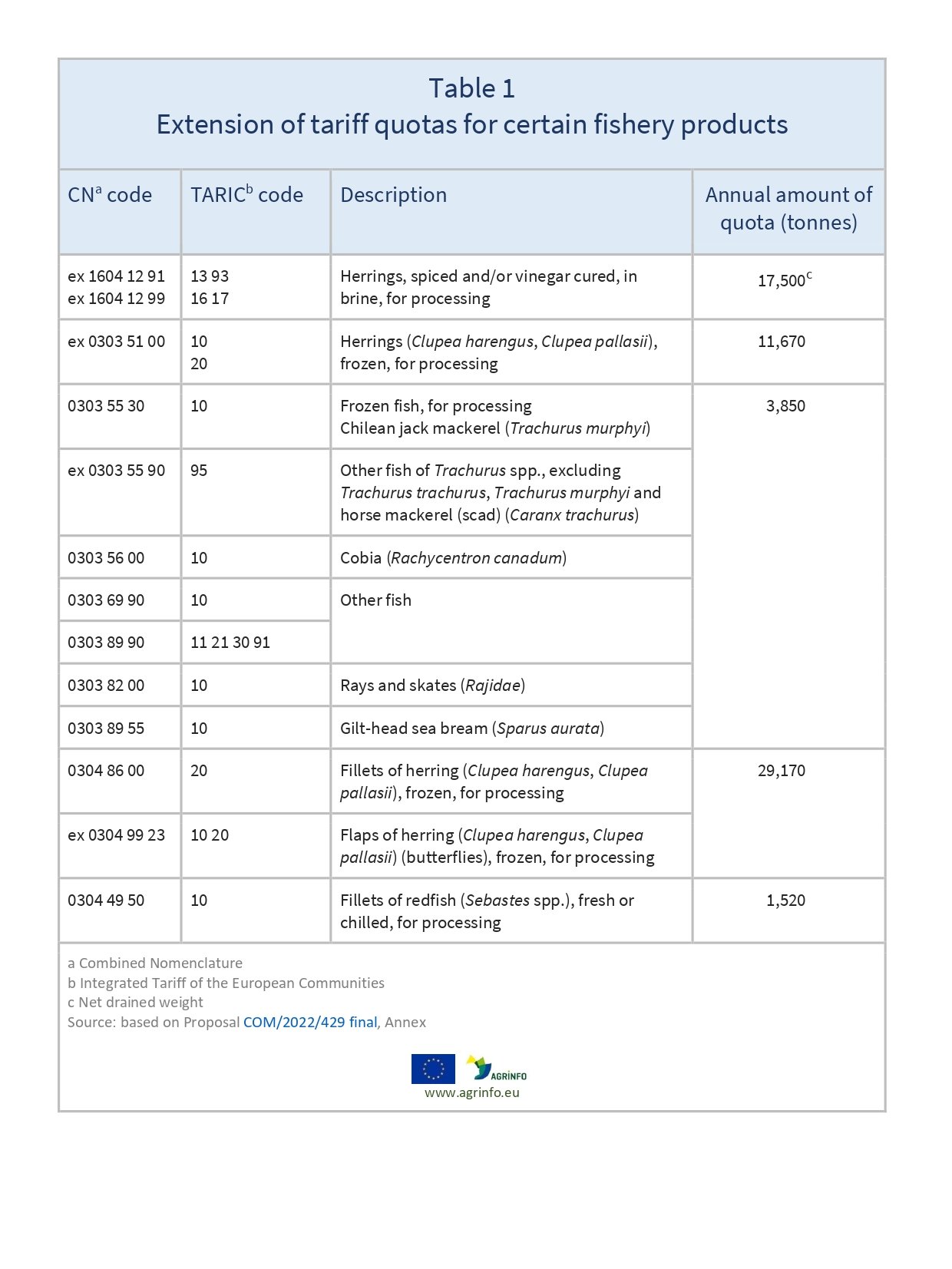 .
---
Disclaimer: Under no circumstances shall COLEAD be liable for any loss, damage, liability or expense incurred or suffered that is claimed to have resulted from the use of information available on this website or any link to external sites. The use of the website is at the user's sole risk and responsibility. This information platform was created and maintained with the financial support of the European Union. Its contents do not, however, reflect the views of the European Union.